Box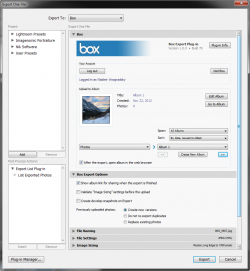 The Box Export Plugin for Adobe Lightroom enables you to export photos and videos from Adobe Lightroom directly to your Box account, manage online albums, and synchronize your entire album hierarchy via Lightroom's Publish Services. The Box Export Plugin for Adobe Lightroom helps you:
Create new albums
Navigate existing albums
Export photos and videos to your Box account
Share albums easily with a link
Synchronize photo descriptions
In addition to the standard export operations, the plugin also offers a fully featured publishing service for Lightroom version 3 and above. With the publishing service you can:
Import your existing album structure
Associate online photos with photos in your Lightroom catalog
Automatically publish updated photos
Rearrange and organize your albums
View comments on your photos and post your own comments
Requirements and Compatibility
The plugin supports both Windows and OS X, and is compatible with the following versions of Lightroom:
Lightroom 2 (2.4 - 2.7)
Lightroom 3 (3.3 - 3.6)
Lightroom 4, 5, 6 / CC 2015, 7, 8, 9, 10, 11, 12 / Lightroom Classic
Licensing
This plug-in is released as Shareware (no source code provided). The license allows you to install the plugin on two computers, for example a desktop and a laptop computer, owned and operated by a single user.
When Lightroom is upgraded to a next major version (e.g. 9, 10, etc.), a new registration code needs to be purchased, unless your most recent purchase was made within a 3-month period before the release of the most recent Lightroom's major upgrade.
Demo Version Restrictions
You may use the unregistered (free) version at no charge for a limited time (10 days), after which you have to register the plugin in order to continue using it. Otherwise, the demo version is a full-featured product and has no other restrictions.
Support the Development
There are many ways you can support further development of this plug-in:
Your participation is always appreciated!
Version History
3.8.1

May 3, 2020

(Latest Version)

macOS: The isntaller disk image is now properly signed and notarized for Catalina.

3.8.0

Nov 17, 2019

Lightoom Classic CC 9 compatibility.

2.10.0

Oct 23, 2017

Added Lightroom 7 support.

2.9.2

Jul 8, 2017

Publish Service - now the plugin gives an option to import existing folders when the user creates a new publish service.
Fixed the "The requested resource no longer exists on the server" error when republishing previously uploaded photos.
Other minor fixes.

2.9.1

Oct 5, 2016

Fixed the "attempt to call method 'getCollectionInfoSummary'" error when running "Import Albums".
AutoUpdate - fixed a bug preventing the installation of plugin updates in some cases.
Stability and performance improvements.

2.9.0

Jan 22, 2016

Added the option to automatically upload XMP sidecars when uploading proprietary raw originals.
Fixed the issue with the filename conflict resolution on upload.
The removal of person tags now works correctly when the Remove Person Info option is in effect.

2.8.0

Nov 30, 2015

Completely redesigned the automatic update mechanism.
Reclaim photos: added now supports all raw formats that are supported by Lightroom.
Improved the diagnostic of upload failures due to incorrect image resizing.
The plugin handles slower connections better and automatically extends the upload timeout when necessary.
Publish Service: album settings - added "Remove Person Info" option (Lightroom 6).
Import Albums - fixed the issue with displaying the number of albums imported from the server.
Improved the image size validation mechanism. Now size validation works correctly when rendering uploads from smart previews and when doing percentage-based resize (Lightroom 6).
Image Size Validation - fixed the "?:0: attempt to index a nil value" error when the rendition's size is out of acceptable range.
Stability and performance improvements.

2.7.3

Jun 20, 2015

Fixed the "Yielding across C/metamethod is not allowed" error when quickly switching between publish providers or export presets.
Fixed the "?:0 attempt to perform arithmetic on global 'count'" error during the export.
The plugin handles slower connections better and automatically extends the upload timeout when necessary.
Other minor fixes.

2.7.2

Jun 9, 2015

Export: Fixed the issue with uploading new versions of existing photos.
Fixed the "Error processing server response" when re-publishing photos.
Other minor fixes.

2.7.1

Jun 7, 2015

Improved the image size validation mechanism. Now size validation works correctly when rendering uploads from smart previews and when doing percentage-based resize (Lightroom 6).
Selecting the top folder for the album hierarchy is more intuitive now.
Improved the session management mechanism in order to minimize possible issues with asynchronous operations.
Lightroom 6: fixed internal error "attempt to compare nil with number" on export when using "percentage" as the resize type.

2.7.0

May 31, 2015

Added support for video uploads in DPX and original (unedited) format.
Publish Service: added the ability to map the folder hierachy to any folder (previosuly there were only two choices: root folder of the account or the Photos folder).
Reclaim Photos: fixed an occasional deadlock situation when running Reclaim Photos using multiple threads.
Puiblish Service: fixed the issue with using global watermarks in folder-specific settings.
Other minor improvements and bug fixes.

2.6.2

Apr 11, 2015

Fixed the issue with publishing.

2.6.1

Apr 9, 2015

Fixed the issue with video uploads.
Improved sanitizing of filenames starting with a dash character.
Fixed the "attempt to call global 'bind' (a nil value)" error.

2.6.0

Mar 31, 2015

Implemented "POODLE" (SSL vulnerability) detection and remediation.
Export Settings: added low/high pixel threshold options for validating image size.
Added a configuration option allowing to suppress upload errors until the very end of export operations.
Export Dialog: improved album caching.
Export Dialog: new Quick Filter feature which enables you to search albums using a text string.
Export Dialog: improved the layout.
New Album Dialog: Now you can paste the name of the currently selected folder or collection with a single click.
Other minor improvements.

2.5.0

Sep 14, 2014

New upload API endpoint. Earlier plugin versions will not be able to upload after Septermber 15th when Box disables the old endpoint.
Implemented throttling of the rendering queue to protect against high disk space consumption during large exports (supported in Lightroom 5.0 and above).
Export Dialog: implemented persistent caching to minimize server requests when loading folder information.
Export Dialog: now displays progress information showing the number of folders retrieved from the server.
My Account section: now displays space utilization info.
Fixed a rare "Method Not Allowed" error when re-publishing photos.
Other minor improvements.

2.4.0

May 24, 2014

Added the ability to access all folders in the account, not just the Photos folder.
Export Dialog: Album controls have been redesigned to provide a faster and more intuitive navigation between folders.
Performance has been greatly increased (particularly in the Export dialog) thanks to the new caching algorithm.
Improved default settings in Export and Publish dialogs.
Other minor improvements.

2.3.0

Mar 15, 2014

Box Publish Service - New Features:

Reclaim Photos - now you can download photos from Box to your hard drive.
Import Keywords - now you can import Box tags as Lightroom keywords.
Synchronize Metadata - enables you to export Lightroom keywords to Box without having to re-upload photos.

Improvements:

Added support for keyword tags. Now when you upload photos, Lightroom keywords appear at Box as tags.
Improved handling of large file uploads and reduced the odds of time-out errors.
Other minor improvements.

2.2.1

Feb 4, 2014

Improved handling of name collisions when renaming albums.
Improved handling of Box API specific errors.
Fixed the "Method is not allowed" error when the required "Photos" folder is missing at Box.
Fixed the issue with applying plugin updates.
Other minor improvements and bug fixes.

2.2.0

Jan 27, 2014

Associate Images: greatly improved performance, particularly on very large catalogs.
Associate Images: Now you can fine-tune association by File Number Suffix using pattern matching.
Other minor improvements and bug fixes.

2.1.0

Dec 31, 2013

Improved session management (the user is prompted to authorize less frequently).
Improved performance.
Publish Service - added the ability to customize sharpening options for individual albums.
Fixed: The plugin sees only first 100 albums in the account.
Other minor fixes and improvements.

2.0.2

Dec 5, 2013

Fixed the "attempt to index local 'API' (a nil value)" error at the end of uploads.
Mac OS: Fixed the issue with completing the authorization sequence at Box.

2.0.1

Dec 3, 2013

Improved performance.
Improved session management (the user is prompted to authorize less frequently).
Improved error handling.
Other minor improvements and bug fixes.

Due to the requirements of Box API V2, the plugin is no longer compatible with Lightroom 2 and 3.

2.0.0

Nov 19, 2013

Migrated all Box API calls from V1 to V2 (the older API is being deprecated and soon will cease to work).
Now supports auto-expiration for shared album links (Starter, Business, and Enterprise accounts only).
Create Album - improved the validation of album settings.
Improved the Automatic Update feature for future plugin versions.
New installer for Mac OS.
Extras - Import Album Structure now imports empty albums as well.
Fixed an infinite loop when retrieving alums in some rare situations.
Create Super Album - fixed the error when no albums or album set are selected.
Other fixes and minor improvements.

Due to the Box API V2 requirements, the plugin is no longer compatible with Lightroom 2 and 3.

1.5.0

Aug 26, 2013

Publish Service - added the ability to customize watermark and metadata settings for each individual album.
Extras - New feature "Find Photos with Comments" enables you to quickly identify published photos that received online comments.
Implemented the ability to deactivate the plugin's license so it can be moved to another computer.
Export - Now "Export with Previous" after creating new albums works correctly.
Fixed the "attempt to index a nil value" error when using a particular combination of album-specific resize options.
Other minor fixes and improvements.

1.4.0

Jun 26, 2013

Publish Service: now image settings (size, resolution, quality level, image format, color space) can be individually customized for each album.
Added the ability to upload photos in TIFF and original (RAW) format.
Added support for AdobeRGB, ProPhoto RGB, and other color spaces.
Improved the handling of a Windows-specific HTTP Error 12032 (the action must be retried).
Other minor improvements and fixes.

1.3.0

May 21, 2013

Opening the Lightroom Publishing Manager panel and logging into Piwigo no longer trriggers the "Not Saved" status unless you actually modify one of the publishing options.
Publish Service: Check Photos now puts out-of-sync photos in the Quick Collection for your review.
Publish Service: Fixed the issue with renaming unpublished albums.
Fixed the issue with retrieving the album list from Box.
Other minor improvements and fixes.

1.2.0

Jan 26, 2013

Now photo keywords are uploaded as Box tags.
Filenames are now validated to allow only names that are suppored by Box.
Fixed the issue with re-exporting photos as new file versions.
Other minor improvements and fixes.

1.1.0

Jan 11, 2013

Publish Service - All "extras" functions such as Import Albums, Associate Images, Check Photos, etc. are now available right from the Publish Service Settings panel within Lightroom Publishing Manager.
Extras - Associate Photos: The photo matching algorithm has been significantly improved to provide a faster and more accurate matching, particularly when file names contain spaces and other non-alphanumeric characters.
Extras - Associate Photos: Added a new method of resolving matching conflicts - now you can prioritize pairing of rendered copies (JPEG and TIFF) over raw originals.
Extras - Associate Photos: Added new matching method "By File Number Suffix" which compares only numeric image suffixes when searching for candidates.
Improved compatibility with the recent changes in Box API.
Fixed the "Unauthorized" error when the previously obtained security token expires.
Fixed the "Not found" error in some situations when synchronizing photo comments.
Fixed the "bad argument to 'gsub' (string expected, got table)" when re-publishing deleted photos.
Other minor improvements and fixes.

1.0.1

Dec 8, 2012

Improved handling of situations when the Photos folder does not exist.
Extras: The photo matching algorithm has been significantly improved to provide a faster and more accurate matching, particularly when file names contain spaces and other non-alphanumeric characters.
Video Uploads: Cleaned up video format options.


1.0.0

Dec 6, 2012