Print Size Calculator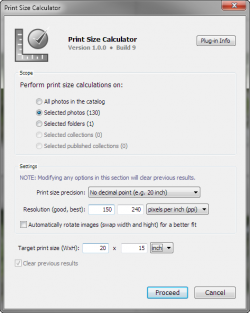 This plug-in helps you calculate the print size of your photos at various resolutions and determine the optimal size of your prints.
How large can I print my photos?
How bad will my photos turn out if I print them at this size?
What is the best print size for my photos photos?
Which of my photos can I print at this size?
How well these photos match the print format I chose?
How large my photos need to be in order to print well at this size?
These are just few common problems the plugin can solve!
Credits and Acknowledgements
The original idea of this plugin was suggested my Mr. Thomas Kemnitz (www.thomaskemnitz.de) when he was looking for a tool to optimize the layouts for his photo books.
Thomas has also put together a screencast demonstrating the plugin in action:
Requirements and Compatibility
The plugin supports both Windows and OS X, and is compatible with the following versions of Lightroom:
Lightroom 2 (2.4 - 2.7)
Lightroom 3 (3.3 - 3.6)
Lightroom 4, 5, 6 / CC 2015, 7, 8, 9, 10, 11, 12 / Lightroom Classic
Licensing
This plug-in is released as Shareware (no source code provided). The license allows you to install the plugin on two computers, for example a desktop and a laptop computer, owned and operated by a single user.
When Lightroom is upgraded to a next major version (e.g. 9, 10, etc.), a new registration code needs to be purchased, unless your most recent purchase was made within a 3-month period before the release of the most recent Lightroom's major upgrade.
Demo Version Restrictions
The unregistered version has no functionality restrictions. You may use the unregistered version at no charge for 10 days. After the trial period you will be required to purchase your personal registration code to continue using the plugin.
Version History
1.0.3

Dec 23, 2016

(Latest Version)

Improved calculation of aspect ratio values - now they are rounded to the nearest tenth instead of being rounded down.
AutoUpdate - fixed a bug preventing the installation of plugin updates in some cases.
Fixed the link to the plugin's home page.
Other minor improvements.

1.0.2

Feb 11, 2016

The Target Size field has been replaced with two separate fields - Target Width and Target Height.
Added new fields: "Width at Target Height" and "Height at Target Width".
Now fields in the Library Filter are sorted alphabetically.
Metadata fields renamed for clarity: "Fit" to "Fit Level", "Dimensions" to "Cropped Dimensions", "Need Dimensions" in sections Good Resolution and Best Resolution to "Dimensions at Good Res" and "Dimensions at Best Res" respectively.
Improved the consistency of default field values.

1.0.1

Nov 5, 2015

The "Clear previous results" option shows the number of photos to process
Added a progress indicator for the "Clear previous results" operation
Items in the metadata filter menu were arranged to match the layout in the Metadata panel
Metadata panel: added section headings

1.0.0

Oct 4, 2015