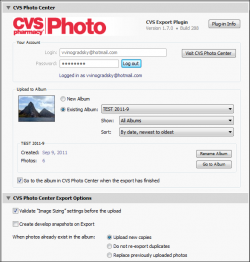 This plug-in allows to export photos from Adobe Lightroom to CVS Photo Center (www.cvsphoto.com).
Features
Supports Export operations
Supports multiple accounts via export presets
Automatically handles collisions with previous uploads
Implements special metadata fields in the "CVS Metadata" tag set for keeping track of photos uploaded using this plug-in
Requirements and Compatibility
The plugin supports both Windows and OS X, and is compatible with the following versions of Lightroom:
Lightroom 2 (2.4 - 2.7)
Lightroom 3 (3.3 - 3.6)
Lightroom 4, 5, 6 / CC 2015, 7 / Lightroom Classic CC
Licensing
This plug-in is released as Shareware (no source code provided). The license allows you to install the plugin on two computers, for example a desktop and a laptop computer, owned and operated by a single user.
The plugin requires to purchase a new registration code for each major Lightroom version (e.g. 5, 6, 7, etc.), unless the purchase was made within 3 months before a major release.
You may use the unregistered (free) version at no charge, however some features (see below) are limited or disabled in the free version.
Demo Version Restrictions
Some features are limited or disabled in the demo version of the plug-in:
The export capability is limited to 10 photos at a time.
The number of photos in a single album is limited to 10.
The CVS Photo Center Export Options section is unavailable (grayed out).
Version History
4.1.0

Dec 10, 2017

(Latest Version)

Added support for Lightroom 7.

4.0.0

May 24, 2016

Migrated the plugin to the new backend API.
The plugin now implements a fully featured Publish Service.
Publish Service: Now you can import existing online albums into Lightroom's publish service.
Publish Service: Now you can associate previously uploaded online photos with photos in Lightroom catalog.
Reclaim Photos. Now you can download your photos from CVS Photo to your computer and rebuild your publish service. Available to registered users only.
Publish Service: Now you can customize album covers.
Added the ability to edit album descriptions.
AutoUpdate - fixed a bug preventing the installation of plugin updates in some cases.
Other minor improvements.

3.1.0

Jul 13, 2015

Improved the image size validation mechanism. Now size validation works correctly when rendering uploads from smart previews and doing percentage-based resize (Lightroom 6).
Lightroom 6: fixed internal error "attempt to compare nil with number" on export when using "Percentage" as the resize type.
Other minor improvements.

3.0.1

Jan 5, 2015

Export Dialog: created album disappears from the album list until manually reloaded.
Album caching algorithm: minor improvements.

3.0.0

Nov 10, 2014

Compatibility fixes after a recent change at the CVS backend.
Export Dialog: implemented persistent caching. Once loaded from the server, album information is stored locally for quick access.
Export Dialog: new Quick Filter enables you to search albums using a text string.
New Gallery Dialog: Now you can paste the name of the currently selected folder or collection with a single click.
Export Dialog: improved the layout.
Fixed the issue with switching presets in the Export dialog.
Implemented "POODLE" (SSL Vulnerability) detection and remediation.
Other minor improvements.

2.0.0

Aug 14, 2014

Code refactoring.
Improved session management and error handling.
Improved performance.
Improved the Automatic Update feature.
Other minor improvements and bug fixes.

1.10.1

Apr 25, 2014

Fixed the authentication sequence after a recent change at CVS backend.
IMproved handling of large uploads.
Other minor improvements.

1.10.0

Feb 21, 2014

Added the ability to initiate multiple uploads in parallel.
Improved handling of large uploads.
Added the ability to upload photos in their original format (without applying any conversion or resizing), provided the photos are already in JPEG format.
Added a "Visit Album" button for opening selected albums in the web browser.
Added a "Album URL" field to the CVS Metadata set.
Other minor improvements.

1.9.1

Jun 17, 2013

Fixed authentication issues after the recent changes at CVS's back-end.

1.9.0

Feb 11, 2013

Code refactoring amd improved handling of connection related errors.
Minor fixes and improvements.

1.8.0

Nov 19, 2012

The photo URL in CVS Metadata now generates correctly.
The album URL in CVS Metadata now generates correctly.
Improved the display of photo rendering and uploading phases on Lightroom's progress indicator.
Implemented validation of album names.
Export Dialog: Removed the unused "video" section.
Minor fixes and improvements.

NOTE: Please note, the extension name of the plugin's folder has been changed from .lrdevplugin to .lrplugin. If you are updating an older version of the plug-in you have two options:

Remove the CVSExport.lrdevplugin folder, then install the update using the new installation packages.
Apply the auto-update. When you restart Lightroom you will be reminded to remove the .lrdevplugin folder and add the new .lrplugin folder (created by the auto-updater next to the old folder) using Lightroom Plugin Manager.

1.7.1

Jan 22, 2012

Now the plug-in handles unsuccessful authentication correctly.
Renaming albums now works correctly.
The Check for Updates dialog now offers two options: "Apply the Update" and "Visit Download Page" in case you prefer installing the update manually.
The Submit Debug Log screen now reminds the users to make sure they are running the latest version of the plug-in.
Fixed a couple of cosmetic issues with the Export screen.


1.7.0

Sep 23, 2011

NOTE: Starting with version 1.7, the plug-in now requires a registration fee of $10 to help offset the cost of continuous development and support.

Changes:

Added the option to handle collisions between duplicate photo uploads.
Added the option to turn off the automatic validation of Image Sizing settings.
Fixed some backward compatibility issues with Lightroom 2.
Added metadata fields for keeping track of photos that were uploaded via the plug-in.
The user is no longer required to re-authenticate on a subsequent export.
Improved the internal diagnostic of Internet connection related issues.
Improved the layout of the Export dialog.
Noe the selected album can be opened in the web browser with a single click.

1.6.1

May 5, 2011

Fixed another issue with creating new albums caused by CVS modifying the back-end (again!).
The debug log is now submitted in a compressed form to improve performance.
Now you can use the Enter key to start a new line in the Submit Debug Log window.
Now the plug-in automatically validates Image Sizing settings. The plug-in will issue a warning if the dimensions of rendered photos are outside of the 'reasonable' 500 - 10000 pixels range.
Photos that failed to upload are now displayed in a list box with the ability to save file names to a text file.
The plug-in now can automatically update itself.

1.5.1

Oct 8, 2010

A quick-fix for the issue with logging in when there are no albums in the account.

1.5

Aug 26, 2010

Fixed numerous issues caused by CVS modifying the back-end (again!)
Added the ability to submit the debug log to alloyphoto directly from the plug-in.
The plug-in is now compatible with Lightroom 3.2 Release Candidate, Windows and Mac OS.
Fixed some cosmetic issues with Mac OS.

1.4

Mar 16, 2010

Fixed the issue with uploads meant for an existing album going into a new album instead.
Implemented the option for automatic checking for plug-in updates. The option can be found in Lightroom Plug-in Manager in the Plug-in Info section.

1.3

Mar 5, 2010

Fixed the issues with uploading photos caused by CVS modifying the upload mechanism.

20100124.2

Jan 24, 2010

The plug-in is now compatible with Lightroom 3 Beta

20091107.1

Nov 7, 2009

The initial release of the plug-in:

User authentication at www.cvsphoto.com
Option to save the password in the preset
Allows you to upload to an existing album or create a new album
Uploading of an unlimited number of photos
Album thumbnails
Album list sorting and filtering
Option to open your album in the web browser after the export