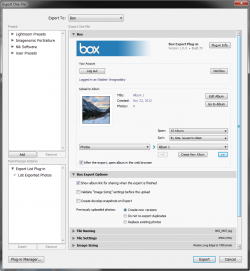 The Box Export Plugin for Adobe Lightroom enables you to export photos and videos from Adobe Lightroom directly to your Box account, manage online albums, and synchronize your entire album hierarchy via Lightroom's Publish Services.
The Box Export Plugin for Adobe Lightroom helps you:
Create new albums
Navigate existing albums
Export photos and videos to your Box account
Share albums easily with a link
Synchronize photo descriptions
In addition to the standard export operations, the plugin also offers a fully featured publish service for Lightroom version 3 and 4. With the publish service you can:
Import your existing album structure
Associate online photos with photos in your Lightroom catalog
Automatically publish updated photos
Rearrange and organize your albums
View comments on your photos and post your own comments
Requirements
Lightroom 2 (2.4 - 2.7): Windows XP, Windows Vista, Windows 7, Windows 8, Mac OS X
Lightroom 3 (3.3 - 3.6): Windows XP, Windows Vista, Windows 7, Windows 8, Mac OS X
Lightroom 4 (4.0 - 4.4): Windows Vista, Windows 7, Windows 8, Mac OS X
| | |
| --- | --- |
| | The plug-in uses the Photos folder to create albums and uploads photos. If you don't have it in your account, make a new folder in the topmost level of your Box folder and name it Photos. |
Licensing and Registration
This plug-in is released as Shareware (no source code provided). The registration fee is $15 (USD). The license allows you to install the plugin on two computers, for example a desktop and a laptop computer, owned and operated by a single user.
Starting with Lightroom 5, you would need to purchase a new registration code for each major Lightroom version. This does not impact dot (minor) releases, e.g. Lr 4.1 to Lr 4.2.
Demo Version Restrictions
You may use the unregistered (free) version at no charge for a limited time (10 days), after which you have to register the plugin in order to continue using it. Otherwise, the demo version is a full-featured product and has no other restrictions.
Support the Development
There are many ways you can support further development of this plug-in:
Your participation is always appreciated!
Version History
1.3.0

May 21, 2013

(Latest Version)

Opening the Lightroom Publishing Manager panel and logging into Piwigo no longer trriggers the "Not Saved" status unless you actually modify one of the publishing options.
Publish Service: Check Photos now puts out-of-sync photos in the Quick Collection for your review.
Publish Service: Fixed the issue with renaming unpublished albums.
Fixed the issue with retrieving the album list from Box.
Other minor improvements and fixes.

1.2.0

Jan 26, 2013

Now photo keywords are uploaded as Box tags.
Filenames are now validated to allow only names that are suppored by Box.
Fixed the issue with re-exporting photos as new file versions.
Other minor improvements and fixes.

1.1.0

Jan 11, 2013

Publish Service - All "extras" functions such as Import Albums, Associate Images, Check Photos, etc. are now available right from the Publish Service Settings panel within Lightroom Publishing Manager.
Extras - Associate Photos: The photo matching algorithm has been significantly improved to provide a faster and more accurate matching, particularly when file names contain spaces and other non-alphanumeric characters.
Extras - Associate Photos: Added a new method of resolving matching conflicts - now you can prioritize pairing of rendered copies (JPEG and TIFF) over raw originals.
Extras - Associate Photos: Added new matching method "By File Number Suffix" which compares only numeric image suffixes when searching for candidates.
Improved compatibility with the recent changes in Box API.
Fixed the "Unauthorized" error when the previously obtained security token expires.
Fixed the "Not found" error in some situations when synchronizing photo comments.
Fixed the "bad argument to 'gsub' (string expected, got table)" when re-publishing deleted photos.
Other minor improvements and fixes.

1.0.1

Dec 8, 2012

Improved handling of situations when the Photos folder does not exist.
Extras: The photo matching algorithm has been significantly improved to provide a faster and more accurate matching, particularly when file names contain spaces and other non-alphanumeric characters.
Video Uploads: Cleaned up video format options.


1.0.0

Dec 6, 2012