Version 1.5 is available for download.
This release fixes the error message that appears when using "Check for Updates" and adds a new option to preview the selected album in the web browser.
The screen shots below illustrate the recently added features.
Automatic Update Checking
To enable the option for automatic checking for plug-in updates, go to the Plug-in Manager (Ctrl+Alt+Shift+,) and select MobileMe Gallery in the list of installed plug-ins on the left-hand side. The Plug-in Info panel on the right-hand side will display the MobileMe Gallery Export Plug-in status information.
Select the Check for updates automatically check box: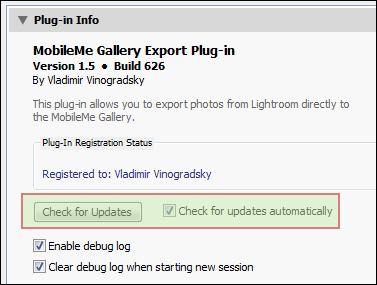 Previewing Selected Album
After you choose an album from the Existing Album drop-down menu, you can open that album in the web browser by clicking the Preview Album button located below the album thumbnail: