Version 1.0.2 is available for download.
This version adds the ability to generate links for sharing albums and photos with your friends, improves usability and performance.
You will notice two new options in Dropbox Export Options and Dropbox Publish Options sections:

If you select the "Show album link" option, the plug-in will prompt you to create a shared link for the album at the end of the upload operation: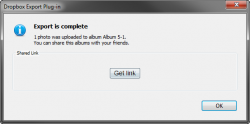 When you click "Get Link", the plug-in will generate and display the shared link for the album. You can copy-and-paste the link to an e-mail message to invite your family and friends to browse the album: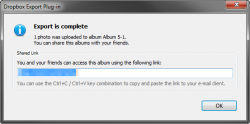 The "Create public links for uploaded photos" makes the plug-in to generate public links for every uploaded photo. The plug-in stores these links in the "Photo URL" metadata field. You can find this field in the Dropbox Metadata fieldset.
To review the change log and download the latest version, visit the Dropbox Plug-in page.
NOTE: The plug-in is currently in Beta Testing. Please submit your feedback and bug reports to alloyphoto @ alloyphoto.com