Version 1.8.0 is available for download.
This update offers new features, fixes a number of bugs, and introduces new installation wizards for Windows and Mac OS.
To review the change log and download the latest version, visit the Piwigo Plug-in Home Page.
Controlling photo visibility level
Now you can control the visibility level of uploaded photos using the standard Piwigo levels:
Admins
Admins and Family
Admins, Family, and Friends
Admins, Family, Friends, and Contacts
Everyone
There are two mechanisms in place:
The default level which appies to all photos with no individual visibility level assigned. This default level can be specified in the publish service settings, or in export options: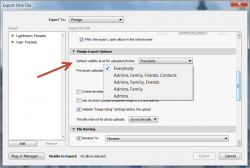 You can override the default level for individual photos using keywords. First, create these special keywords in your catalog as follows: go Library > Plug-in Extras > Piwigo Export Plug-in Extras, then click "Create Keywords":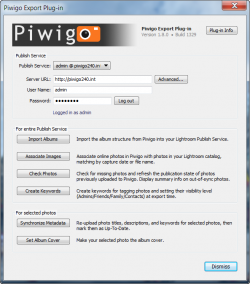 Once the keywords have been created you can find them in the Keyword List panel. Now you can start tagging your photos.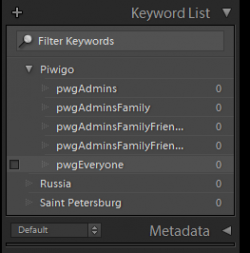 The visibility level you assign using Piwigo keywords overrides the defaul visibility level, whether you publish or export your photos. Just make sure to use a single keyword for tagging - if you assign multiple Piwigo keywords, the resulting visibility level may be unpredictable.