Version 1.13.0 is available for download.
Changes in this version:
Now the visibility level of individual photos can be controlled using the new "Visibility Level" located on the Metadata panel, in the "Piwigo Metadata" section.
Fixed the "C stack overflow" error on Mac OS.
Other minor improvements and fixes.
This is how you control the visibility level for individual photos: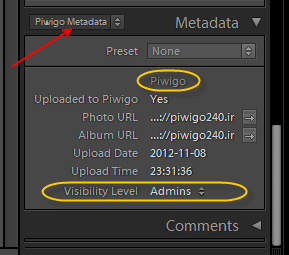 For a detailed list of changes, see the Piwigo Export Plugin home page.