Publish by Keywords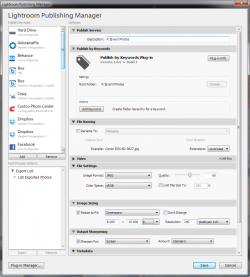 The Publish by Keywords Plugin for Adobe Lightroom implements a publishing service that automatically organizes your photos by nested keywords into a hierarchy of folders on the hard drive.
Requirements
Lightroom 4 (4.0 - 4.4): Windows Vista, Windows 7, Windows 8, Mac OS X
Lightroom 5 (5.0 - 5.5): Windows Vista, Windows 7, Windows 8, Mac OS X
Licensing and Registration
This plug-in is released as Shareware (no source code provided). The registration fee is $15 (USD). The license allows you to install the plugin on two computers, for example a desktop and a laptop computer, owned and operated by a single user.
The license covers only the current major version of Lightroom available at the time of purchase or released within 3 months after the purchase, as well as any supported earlier version. Minor Lightroom updates, e.g. Lr 5.4 to Lr 5.5, do no require a new plugin license.
Demo Version Restrictions
You may use the unregistered (free) version at no charge for a limited time (10 days), after which you have to register the plugin in order to continue using it.
Usage Instructions
In the Library module, locate the Publish by Keywords item in the Publish Services panel. Click Set Up... on the right.

In the Settings section, click Choose... and specify a root directory of the folder hierarchy you want to maintain. This is where the plugin will be creating sub-folders for your keyword-based collections for published photos. In this example I am using keyword tags to represent individual people at a hypothetical "Halloween 2013" party. The end result that I am looking for is to have photo sets (folders), one set per person, containing all photos that capture the person.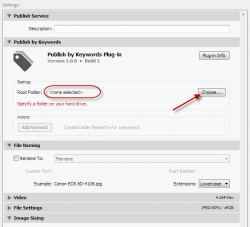 Specify other settings, such as File Settings, Image Sizing, Output Sharpening, etc. Click Save to save your new publish service.
Double-click the Publish by Keyword service you have just created. Now you are ready add a new collection set. In the Actions section, click Add Keyword and navigate to any keyword which will represent this collection set. You want to use a non-leaf keyword containing other keyword, such as event title or place name.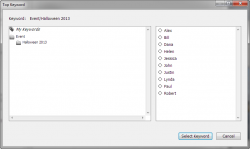 Close Lightroom Publishing Manager. You can see the newly created collection set inside the Publish By Keywords service.
All these collections are smart collections. Lightroom will automatically update their content as you tag more photos with same keywords, or when you remove tags from existing photos. All you need to do is publish any pending updates.
Click Publish to publish your photos.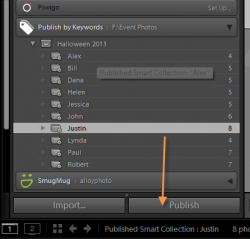 When the publishing process finishes, right-click the collection set and choose Reveal in Explorer (Windows) or Reveal in Finder (Mac OS) from the pop-up menu: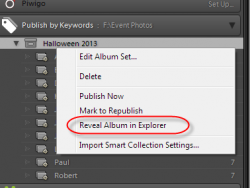 You can add as many other keyword hierarchies as needed or create another publish service for a different root folder on your hard drive.